It's time for another exciting edition of Rowena Reviews!
The Sisters Grimm
series, by Michael Buckley
These are lighthearted children's gumshoe books, and I love them. They are always a quick easy read, have a basic lesson, and have a sprinkling of lighthearted sarcasm. There are currently six available for reading. The seventh comes out in May this year, and Michael Buckley intends to write at least eight or nine of them.
Georgette Heyer
I've been reading Heyer because
Heidi
mentioned her in passing awhile back, and I pretty much stalk Heidi and mimic her because she is a pinnacle of awesomeness (She even has her own chickens). I like the sparkling dialogue of Heyer's books my overly cautious side robs me of the joy at engagements that occur after a few weeks of acquaintance. (It took me about ten years of acquaintance to decide.) I recently read
Lady of Quality,
and
Cousin Kate
, which caused my laundry to sit on my coffee table for an extra two days.
Cousin Kate
was more dramatic and gothic than the other two Heyers I've read so far.
Cotillion
was probably my favorite of the three.
Titan,
by Ron Chernow
I have been reading the literary/culinary equivalent of marshmallows for months and I finally get a nice literary steak, and what do I get? The choice between late fees or patience. Some JERK requested this book so I couldn't renew it when I was about seven or eight chapters in. I have requestified it right back, because what I had read thus far was fascinating.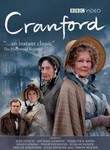 Movie:
Cranford
My HSBFF brought this BBC Drama by, and it did not disappoint. I loved all of the absurdity, ups, and downs of a town run by prudish spinsters. The film is a combination of three novels by Elizabeth Gaskill, so if you liked
North and South
you would probably enjoy this film (unless you can't handle gore—there is a nasty broken arm and another bloody scene that are rather intense—email if you need details). A favorite quote: "I would not care to teach the globes, for I never did like the notion that the world is round. Makes me feel so giddy." -Miss Mattie
*If you are wondering: Netflix images are MUCH smaller than Amazon's. I think this is significant because books always give a much bigger picture.